Robin Loudermilk –

Helping Develop Perry
November 11, 2017 | Vic Powell, Houston Home Journal
Many people may have heard of the name Robin Loudermilk, and for good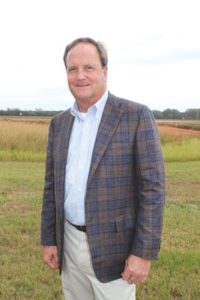 reason. He is the president, CEO and owner of Loudermilk Companies, a real estate firm based in Atlanta, who has been helping develop Perry for five years.
An Atlanta native, he has always had a close relationship with Perry.
"I used to, and currently do, travel through Perry on a regular basis going hunting. I'm a big bird hunter," Loudermilk said. "A lot of times, we would stop at the New Perry Hotel and eat. I've always known Perry, and always stopped in Perry. It's nice to get out of the fray of Atlanta, and it's pleasant to stop in Perry."
Loudermilk said he has gone through Perry all of his life, traveling on I-75, and now he has good friends and business partners here.
Loudermilk is a third generation Atlantian, being born and raised there, and his son makes the fourth generation. His grandfather, he said, was a lineman for Georgia Power.
He left Atlanta briefly to earn his degree from the University of Alabama in general business management. While there, he met his wife, to whom he has been married for 32 years and has three children with.
"My first job out of college was Coldwell Banker commercial real estate. My second was as a commercial contractor," Loudermilk said. "Then I went into the family business, which is a furniture rental company called Aaron's."
He said that he worked in the family business for 25 years, but the entire time, he was diversifying the holdings into real estate. His true passion has been real estate the entire time, though he had been a frustrated developer for the past two and a half decades. Then about five years ago, Loudermilk said, he started his real estate firm with the holdings he had accumulated over the years.
"Back six or eight years ago, I had a friend, Jared Brannen, who decided he wanted to open an outdoors store in Perry. So we bought the old Priester's Pecan and opened Brannen Outfitters. That solidified the relationship (with Perry)," he said.
After opening the outdoors store, Loudermilk said he wanted to control the land around the business so that only businesses he approved could move in.
"I wanted to control the land around it so nothing that wouldn't fit into the 'master plan,' as I call it, would come in, say a truck stop. Not that there's anything wrong with a truck stop, but that wouldn't be the right place for it," Loudermilk said. "It was important to control the real estate around it. I wanted to be able to hand select retailers and businesses around the outdoor store and Perry Ford store."
Loudermilk said he has been buying parcels ever since he and Brannen opened the outdoor store in 2012-2013, and he said he bought the Ford dealership in Perry about two years ago.
The commercial real estate properties Loudermilk owns is named the Agricultural Village. Thursday, he was present at a ribbon cutting ceremony for a new residential subdivision at the Agricultural Village called the Preserve.
"The Preserve was already developed," Loudermilk said. "It lay dormant during the recession, but all the infrastructure was in place — sewer, water, gas power — but there were no houses on it. I bought it out of foreclosure, so I decided to make it part of the big picture, the Agricultural Village. It's a part of the whole concept."
The master plan, Loudermilk said, is to develop restaurants and activation activities for people who visit the agricultural center. He said it's an opportunity to develop an agricultural Georgia theme of both commercial and residential properties on exit 134.
"The vision and master plan is shopping and restaurants of both local and regional players to come in. We're hand selecting the tenants to come in and open retailers and restaurants," he said.
Loudermilk said that for a project such as this, one must look at it from a long-term point of view.
"You have to look at it one, three, five and 10 years on the horizon. It's a long term five, 10-year horizon development. It takes time," he said. "Every operator you bring in is a piece of the puzzle and fuels the fire for the next one. It gains steam as it goes down the track. There's a five, 10 year horizon to get this thing developed."
His Agricultural Village isn't the only development property Loudermilk owns in Perry. The New Perry Hotel, a landmark to many residents here, failed a few years ago. Loudermilk purchased the business in 2014 because, he said, he didn't want it to go to the wrong person.
"It's another control issue," he said. "I thought another option was to preserve it and make sure it didn't fall into the wrong hands. It was more of a defensive play. It's a very big part of the fabric of downtown Perry. A lot of people know Perry due to the hotel."
Loudermilk said the hotel is part of a broader picture of Perry in general. As a supporter of the Downtown District, owning properties on General Courtney Hodges Boulevard, he said downtown Perry needs to stay vibrant.
"It's more of a big holistic look at downtown Perry and the surrounding area," he said.